By bonding two piezoelectric ceramic panels together and applying an AC voltage to them, alternately one element elongates while the other contracts causing curved vibrations to take place. Conversely by bending it AC voltage can be extracted. This is called a Bimorph Armature and it possesses frequency characteristics in the audible range. It can be used as an phonograph record pickup, microphone, vibration sensor, ultrasonic remote control etc..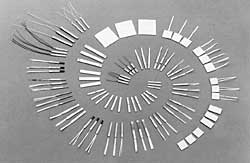 Distinctive Features
High Quality
Stringently selected materials assure high sensitivity with little deviation

Wide Variation
Technology permits choice of a wide range of static capacity, dimension and resonant frequency.

Mechanically Sturdy
Appropriate elastic panel is inserted at joints making a strong mechanical assembly

High Reliability
Excellent temperature and humidity characteristics guarantee reliable operation.
STANDARD COMPONENTS
Dimensions (mm)
L X W X T

Electrostatic
Capacity (pF)

Characteristics

Construction

Main Applications

15 X 1.5 X 0.6

750
Popular type, high sensitivity
Series type
Record pickup
Various: microphones
Speakers
Vibration pickup
1000
2000
High Capacity
4000
High Capacity wide band
Parallel type
7000

12.7 X 1.6 X 0.65

550
High Sensitivity compact size
Series type
850
1700
High Capacity

7.7 X 7.7 X 0.7

1200
High Sensitivity
Series type
Ultrasonic remote control

9 X 9 X 0.6

2000
Wide band
For other custom sizes consult with Fuji & Co. Select our information request form at the top of the page for fast response to your inquiry.

SPECIFICATIONS

Series Type
Electrically series-connected high sensitivity type, with static capacity range of 300 to 2500 pF.

Parallel Type
Electrically parallel-connected large capacity type, with static capacity range of 3000 to 7000 pF.

(+) Polarity
When excited, plus sine-wave AC electromotive force ( 0-phase) is generated.

(-) Polarity
When excited, minus sine-wave AC electromotive force ( pi-phase) is generated.

Polarity Identification
Polarity is indicated by a color code.

Lead Terminal
Specify whether lead (ribbon) is needed or not.

Moisture-Proof Coating
Specify if moisture-proof coating is to be provided.
Quality Standards

Specify these items when ordering

Output Sensitivity
Tolerance +/-3dB @ 1kHz.
Electrostatic Capacity
Nominal value +/-20% @ 1kHz.
Insulation Resistance
>50 M ohms @ 50 V DC
Withstanding Voltage
100 V DC series type
50 V DC parallel type
Ambient Temperature
-10 to + 60 C°
Withstanding Humidity
90% @ 40 C°
Transverse Breaking Strength
Center load of 3N over 10 mm span
Dimensions
L ±0.2, W +/-0.1, T +/-0.005 mm
not including coating

Dimension
Length, Width, Thickness
Characteristics
Electrostatic capacity, needed
sensitivity
Polarities
for monaural or stereo
Specifications
Lead terminal
Moisture proofing yes/no
Other related items