AIR ULTRASONIC SENSORS
FUS - 110A
FUS - 200A
FUS - 300A
FUS - 400A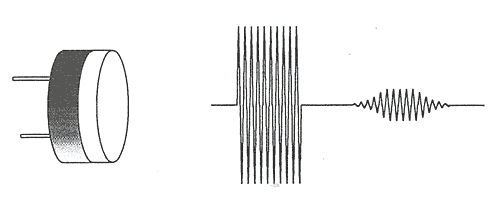 Introduction:

The Air Ultrasonic Transducer can detect objects or measure distance, making use of transmitting ultrasonic acoustic waves in the air and receiving the reflected wave. Ultrasonic waves can reflect from transparent objects also, making it possible to to sense an object invisible to optical sensors. With this phenomena, the technology can be used in such fields as measuring liquid surfaces or gaseous currents. Fuji & Co. is active in developing the most effective and highly sensitive sensors.

We can entertain special customer requests on shapes, frequency based on customer specifications.

Applications:

There are three basic systems which can be employed in ultrasonic sensors.
| | |
| --- | --- |
| | Single element reflection system. |
| | Two element reflection system. |
| | Two elements and facing system |
The FUS series can apply to any of these.
There are two kinds of signal wave forms.
| | |
| --- | --- |
| | Continuous wave systems: Useful for object detection. |
| | Pulsed wave systems: Useful for distance measurement and gaseous current meters using analysis of arrival time of reflected wave. also in remote control system where pulse recurrence rate is modulated. |
Fuji & Co. recommends two element reflection system for short distance measurement because single element cannot receive reflected signal if it is still transmitting when reflected signal returns.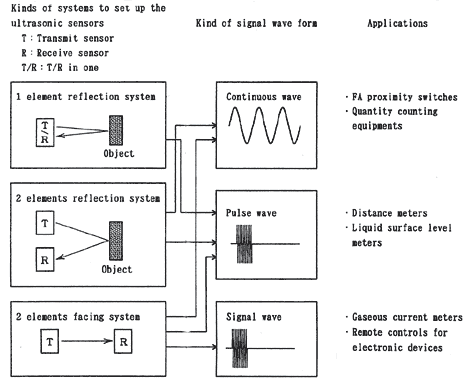 Construction - Dimensions:
Model

FUS - 120A

FUS - 200A

FUS - 300A

FUS = 400A

Nominal Frequency

120 kHz.

200 kHz.

300 kHz.

400 kHz.

Dimensions

Construction
Rating:
Model
FUS - 120A
FUS - 200A
FUS - 300A
FUS - 400A
Nominal Frequency
120 kHz.
200 kHz.
300 kHz.
400 kHz.
Sensitivity
>-55dB @ 0.35cm
>-55dB @ 0.2cm
>-65dB @ 0.15cm
>-70dB @ 0.1cm
Electrostatic Capacity
600 pF
380 pF
260 pF
200 pF
Directivity
5 degrees
6 degrees
7 degrees
7 degrees
Max. Input Voltage
80 Vp-p
60 Vp-p
40 Vp-p
40 Vp-p
Distance of Detection
0.35 ~ 2.5m
0.2 ~ 1.2m
0.1 ~ 0.6m
0.08 ~ 0.3m
Resolution
3mm
2mm
1.2mm
1mm
Operating Temp Range
-20 ~ 60 degrees C
Storage Temp Range
-35 ~ 70 degrees C
Measurement Circuit